The Woodlands Waterway Taxis are losing money, plain and simple.  While they were initially intended to be a part of the Town Center Transportation system, they became a tourist attraction or amusement ride.  The annual ridership is low on average with occasional peaks during holidays, the Waterway Arts Festival during and other woodlands events. The Waterway Taxis are owned by The Woodlands Development Corp and operated by The Brazos Transit District and they are ready to sell the service.
As a local resident, I can tell you that the waterway taxi as transportation device is, and was a bad idea to from the start. While the route is nearly a mile long, it doesnt actually go anywhere that you can't get to in an easier fashion.  The Town Center Trolley system is free, runs more often, has more stops, you can even exit anywhere along the line.  For that matter, why not just enjoy a nice stroll from point A to point B and see everything in between? Waterway / Town Center Map
Then there is the actual water… The idea behind the waterway is similar to the San Antonio River Walk only not as attractive.  The water in the waterway is a less than attractive, stagnent green and typically has a mossy, fungus growth floating around in it. The water does support wildlife, fish, ducks, and even a few beavers live in the waterway as well as Lake Woodlands only the waterway doesn't seem to get changed with fresh water, except when it rains.  You see, the waterway area that supports the waterway taxis is essentially dammed off at the western end and has nowhere else to go in the eastern end while the real river walk in San Antonio is a cut off to and from the San Antonio river.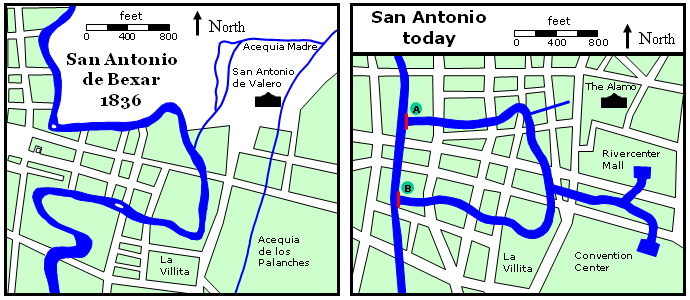 The waterway taxis have lost approsimately $240,000.00 during the period from May 2008, May 2009 and it's not getting any better.  The boats are need of cleaning and painting and the waterway itself, well, it needs work as well.  It has been suggested that if the Woodlands Convention and Visitors Beareau (WCVB) would take ownership it could then receive federal reimbursement of nearly 40% of the annual hourly cost. That combined with a reduction in operation hours would greatly reduce operation expenses and keep the boats afloat.
A public meeting at the woodlands township on may 27, 2009 is to include voting on a plan to commit no more than $100,000.00 annually to support the waterway taxi operations.